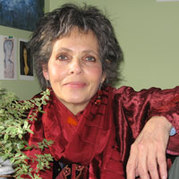 ​Reading The Difficult invites course members to explore critically and creatively "difficult knowledge" as represented in writings about Antisemitism and the Holocaust particularly, though course material may examine exclusionary and life-denying practices within related Human Rights contexts. Course readings include, among others, brief selections from work by Charlotte Delbo, Paul Celan, Imre Kertesz, Primo Levi, Carol Matas, Anne Michaels, Cynthia Ozick, Maurice Sendak, Art Spiegelman, and Elie Wiesel.

The second half of each two hour class will offer a creative writing workshop that will introduce writing strategies and structures that respond to course readings, as well as to the classroom community. These workshops are designed to support participants as they discover and refine creative forms of expression that embody this exploration and experience.

Course members are encouraged to bring memorabilia and writings that contribute to course readings, classroom discussion, and our shared creative process.
---
---
Course Syllabus

​Course Opening
Wilhelm Grimm, Tale, and Maurice Sendak, Illustrations. Dear Mili (Harper Collins, 1989). I will be bringing 6 copies of this picture book to share with everyone during the first class. The picture book represents a retelling of the 1816 tale by Grimm, discovered in 1983 and reconceived through Sendak's understanding of the Holocaust. It is but one of the places in which we can begin. Though the reading list does not include graphic forms such as Art Spiegelman's Maus, everyone is invited to bring in materials that relate to the forms/themes/concepts we are exploring in the various sections as given in this Table of Contents so that we might extend and deepen the resources that support our reading and writing. Such materials may include objects, photographs, letters, transcripts, excerpts from readings, previous writing, etc.

During the first class, I'll reference key passages from Franklin's Introduction as noted in Section I below, and we'll read together from Charlotte Delbo's shorter pieces as noted as well in Section I—"Useless Knowledge," 222-228; "Prayer to the Living To Forgive Them For Being Alive," 228-229— for these pieces can work with Sendak as points of departure for discussion and in support the creative writing we'll do together in the second part of the first class. We can return to Franklin and Delbo on Nov. 2 as well as within the context of the other readings as given in that section. I will also provide an overview of the course readings and provide an indication of the range of workshops we'll be doing during our October 26th meeting.


Section I: Contexts
Ruth Franklin, Introduction, A Thousand Darknesses: Lies and Truth In Holocaust Fiction (Oxford UP, 2011), pp. 1-19. (I will highlight key passages in the first class.)

Charlotte Delbo, excerpts from Auschwitz and After. Trans. Rosette C. Lamont (Yale UP, 1995): Introduction by Lawrence Langer; excerpts from "Useless Knowledge," pp. 222- 228; "Prayer to the Living To Forgive Them for Being Alive," pp. 228-229. (We will explore sections in the first class.)

Adolph Hitler, excerpts from Mein Kampf. Trans. Ralph Manheim (Mariner Books, 1999): Translator's Note and excerpts, pp. 52-65.

Heinrich Himmler, from his Speech at the Meeting in Posen, 4 October 1943, pp. 1-6.

The Minutes from the Wannsee Conference, 20 January 1942, pp. 1-5.

George Steiner, "The Hollow Miracle: Notes on the German Language." The Reporter. 18 February 1960: 36-41.


Section II: Diary/Journal
Anne Frank, excerpts from The Diary of A Young Girl: The Definitive Edition. Eds. Otto Frank and Mirjam Pressler. Trans. Susan Massotty (Anchor Books, 1996): Foreword, pp. 1-3 and excerpts: pp. 52-55; 66-68; 118-121; 335-337.

"The Ordeals Of The Judenräte," A Holocaust Reader. Ed. Lucy S. Dawidowicz (Behrman House, 1976): Introduction and excerpts from Adam Czerniaków's Diary, 1939-1942, pp. 242-55; Minutes of the October 11, 1942 Special Assembly, Bialystok Ghetto, pp. 283-85.

"The Ordeals Of The Ghettos In Eastern Europe," A Holocaust Reader: Introduction and excerpts; Josef Zelkowicz, "Days of Nightmare," Art from the Ashes, pp. 197-214.

"From Justina's Diary: The Resistance in Cracow," A Holocaust Reader, pp. 340-347.

Irene Gut Opdyke, with Jennifer Armstrong. In My Hands: Memories Of A Holocaust Rescuer, (Knopf, 1999), "Tears," pp. 126-132; 143-44; 228-229, "Amber."


Section III: Memoir
Delbo, excerpts from Auschwitz and After: from "None of Us Will Return," "Auschwitz," 87-88; from "Useless Knowledge," pp. 150-153; 190-191; from "The Measure of Our Days," pp. 254-255; 266-267.

Primo Levi, excerpts from If This Is A Man and The Truce. Trans. Stuart Woolf (Abacus, 1987), Author's Preface, pp. 15-16; "The Last One," pp. 151-157; "Shame," from Art from the Ashes, pp. 108-118.

Jacques Furmanski, "Conversations with a Dead Man," Art from the Ashes, pp. 72-74.

Saul Friedländer, excerpt from When Memory Comes. Trans. Helen R. Lane (University of Wisconsin Press, 1979), pp. 96-106.

Eli Wiesel, excerpt from Night. Trans. Stella Rodway (Bantam, 1986), pp. 93-96; and "A Plea for the Dead," Art from the Ashes, pp. 138-152.


Section IV: Fiction
Marguerite Duras, excerpts from The War: A Memoir. Trans. Barbara Bray (The New Press, 1986), pp. 3-10; 56-62; 173-182.

Anne Michaels, excerpt from Fugitive Pieces (McClelland and Stewart, 1996), pp. 5-14.

Imre Kertész, excerpt from Kaddish for a Child Not Born. Trans. Christopher C. Wilson and Katharina M. Wilson (Northwestern UP, 1997), pp. 26-34; 44-45; 88-95.

Edmund De Waal, excerpt from The Hare with Amber Eyes: A Hidden Inheritance (Picador, 2010), pp. 269-276.


Section V: Poetry
Don Pagis, from Art from the Ashes: Introduction, "Autobiography," "Europe, Late," "Written in Pencil . . . " "The Roll Call," "Testimony," "Instructions for Crossing the Border," pp. 586-591.

Paul Celan, from Art from the Ashes: Introduction, "Death Fugue," "Aspen Tree," pp. 598-603; "Tenebrae," "There Was Earth Inside Them," "Psalm," Alchemical," pp. 606-609.

Miklós Radnóti, from Art from the Ashes: Introduction, 618-619; "Fragment," "Root," "Forced March," pp. 630-632.

Nellie Sachs, from Art from the Ashes; Introduction, 635-637; "What Sweet Cravings of the Blood," "You Onlookers," "If I Only Knew," "Chorus of the Rescued," "If the Prophets Broke In," pp. 640-647.

Robert Desnos, "I've Dreamed Of You So Much," The Voice of Robert Desnos: Selected Poems. Trans. William Kulik (The Sheep Meadow Press, 2004).

Excerpts from . . . I never saw another butterfly . . . : Children's Drawings and Poems from Terezin Concentration Camp 1942-1944. Ed. Hana Volavkovd (Schocken Books, 1993), "Terezin," p. 17; "Lights Out," pp. 22-24; "Concert Hall In The Old School Garret," p. 34; "Momma told me to write to you today," pp. 36-37; "The Butterfly," p. 39; "I'd Like To Go Alone," p. 50; "I am a Jew . . .," 57; "On A Sunny Evening," p. 77; "Birdsong," pp. 80-81; Afterword, pp. 104-05.


Section VI: Second Generation Life Writing, Memoir, and Interviews
David Lehman, excerpt from "In the Holocaust Gallery," Testimony: Contemporary Writers Make The Holocaust Personal. Ed. David Rosenberg (Random House, 1989).

Alfred Kazin, excerpt from "My Debt to Elie Wiesel and Primo Levi," Testimony.

Marge Piercy, excerpt from "The Dark Thread in the Weave," Testimony.

Phillip Lopate, excerpt from "Resistance to the Holocaust," Testimony, pp. 296-304.

Suzanne, "The Hopeful One," in Peter Sichrovsky, Born Guilty: Children of Nazi Families. Trans. Jean Steinberg (Basic Books, 1987).

"The Hidden King," Legacy of Silence.


Section VI— Ongoing One
Depending on how we are doing for time, we may go back to re-read certain selections, continue to explore readings that we have not had time to discuss, and/or engage readings/artifacts/memorabilia course members have brought to share. Certainly, we'll continue the exploration of one another's developing writing and the decisions that might have been made about revision and editing processes during the writing workshops.


Section VIII – Ongoing Two
I imagine our closing session as one which could involve:
A reading of pieces for those who would like to share; A discussion of the creative process/journey that has been intrinsic to the writing of the difficult and the reading of the difficult in relation to the act of writing.

We'll be discussing the December 14th format as we move through the course and discover what suits our experiences and aspirations.