Dr. Chatterley's Introductory Remarks

for the

First Annual Shindleman Family Lecture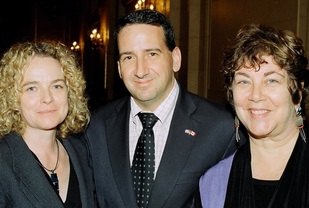 Dr. Chatterley, Consul Cipullo, US Envoy Rosenthal
Good evening and welcome to the First Annual Shindleman Family Lecture in support of the
Canadian Institute for the Study of Antisemitism
. My name is Catherine Chatterley and I am CISA's founding director. Before I introduce our special guest, I would like to tell you a little bit about the Institute and our work.
CISA is an independent academic organization dedicated to the scholarly study of Antisemitism and the Holocaust. We have 34 distinguished scholars on our Academic Council, including internationally respected authorities such as Deborah Lipstadt, Robert Wistrich, Daniel Goldhagen, two chief Yad Vashem historians (Dan Michman and Dina Porat), Canadians Irving Abella and Irwin Cotler, feminist icon and psychotherapist Phyllis Chesler, and the father of Holocaust history, Yehuda Bauer. Our board of directors is led by Sandy Shindleman and includes community leaders Mel Lazareck, Ida Albo, and Syd Thompson, as well as celebrated author and English Professor Deborah Schnitzer.
As you may have read in the brochure tonight, CISA's goals are threefold:
We are working with members of CISA's Distinguished Academic Council to establish the formal academic study of Antisemitism as a field of inquiry in our universities
Against a number of cultural and political pressures, we are dedicated to preserving, facilitating, and advancing the academic study of the Holocaust as a central transformative event in Western history
And by means of scholarship and education, we are working to inform Canadians about the nature and history of antisemitism in its classic and contemporary forms
To achieve these goals, the Institute is in the process of developing a university program in Antisemitism and Holocaust Studies to be based here in Winnipeg.
I would like to acknowledge our chairman, Sandy Shindleman, and his family, Diane, Robert, and Daniel, for clearly recognizing the value of this work and for championing the Institute and its goals. It is out of gratitude to this wonderful, insightful, and generous family that I wanted CISA's Annual Lecture to be named in their honor. And so it is with great pleasure that I introduce our first Shindleman Family Lecturer: Hannah Rosenthal.
I have promised to explain tonight how it is that I know a member of Hillary Clinton's State Department so here goes: I met Hannah last year, on my birthday, the same morning that my CMHR pig postcard editorial appeared in the Winnipeg Free Press. We were both attending a conference sponsored by Alvin Rosenfeld's new

Institute for the Study of Contemporary Antisemitism

at Indiana University—Hannah was our keynote speaker for the first evening's reception. I walked up to the limo stand at the Indianapolis Airport and I saw her on her cell phone, introduced myself, and discovered that she did not have a limo reservation.
A member of the US State Department without a limo reservation—not good and probably not a very common experience for her.
So I said to check if they had my reservation, they did but they were running an hour late, so I suggested we take a cab together to the Bloomington campus. I had to stop myself from doing the dance of joy on the way to the taxi, knowing that I would now have a full hour with the US Special Envoy to Combat and Monitor Antisemitism Worldwide and could show her the editorial that I had written about the CMHR and the attack on the Holocaust gallery. That excitement continued when she told me that she supervised Bill Clinton's first presidential campaign in the State of Wisconsin, and I said in response: "Oh my God, if you are that close to the Clintons you must know Streisand! Please tell me you know Streisand." And she said, with a big smile, "Noooo, but I LOVE her too."
We had a fascinating discussion about her work, about a number of troubling realities that a diplomat discovers in her travels, I asked questions about Eastern Europe, and she shared some of the truly rewarding triumphs she has had, including the trip she sponsored to Auschwitz for eight Imams in August 2010, which led to a joint statement condemning Holocaust denial and antisemitism.
So without further ado:
Hannah Rosenthal was sworn in as Special Envoy to Monitor and Combat Antisemitism on November 23, 2009. Sparked by the work and experience of her father, a rabbi and Holocaust survivor, and her own experience studying to become a rabbi, Hannah Rosenthal has led a life marked by activism and a passion for social justice.
Before joining the State Department, Ms. Rosenthal was Executive Director of the Chicago Foundation for Women, where she led one of the largest women's funds in the world. Prior to that, she was Executive Director of the Jewish Council for Public Affairs for five years, where she worked on domestic and international policy for the organized Jewish community in North America.
Ms. Rosenthal served as Midwest regional director of the U.S. Department of Health and Human Services during the Clinton Administration. She was involved in community organizing, and the antiwar and civil rights movements in the 1960s.
Ms. Rosenthal attended graduate school for rabbinical studies at Hebrew Union College in Jerusalem and Los Angeles, and holds a bachelor's degree in religion from the University of Wisconsin. She will speak to us this evening about the "Six Global Trends in Antisemitism."
It is my sincere pleasure to welcome Special Envoy Hannah Rosenthal.